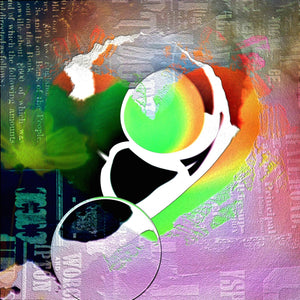 Consent (20"×20")
A stunning and powerful abstract expressionism design that will leave you speechless. The background appears to be a business contract, but the foreground reveals a deeply intimate and personal agreement that will make a bold statement in any room.
Measuring 20" x 20", this original artwork is printed on Somerset Velvet Fine Art paper, ensuring a high-quality finish that will stand the test of time. The piece is mounted to a sturdy 1/8" tempered hardboard and protected with premium UV laminates, making it resistant to radiation damage, scratches, and abrasion.
The 3/4" frame applied to the back of the image is flush with the edges, creating a sleek and modern look that is sure to impress. The side profile is approximately 1" thick, adding to the substantial feel of the piece. And with all necessary hardware included, "Consent" is ready to hang right out of the box.
But don't wait - this statement piece is sure to go quickly. Order today and add a powerful and meaningful work of art to your collection. Price includes shipping, and sale is final.
Copyright Dana "Jonesy" Jones, 2021.
𝐴𝑣𝑎𝑖𝑙𝑎𝑏𝑙𝑒 𝑖𝑛 𝑡𝒉𝑒 𝑈.𝑆.